Thursday, December 01, 2005
Fuck you Q...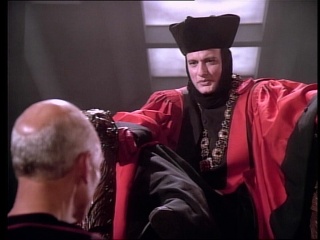 No, not that Q...
The Bitch-Goddess Variance has finally decided to take some pity on my chapped, bruised junk and give me some of that "just a little better than the other poor sap" sugah. Final tables in just about every SNG. Backdoor straights against idiots playing weak suited ace-pairs.
In almost all the SNGs where I've gone deep, winning or seconding (after this month, I'll take it) I've found myself short-stacked 6-handed. Only 5 pay. My M, around .0000258. My Q, "Surrender Dorothy!"
I get KTo on the button. I'll feel the brush of a phantom ugly-ass Red Sox ball cap brim on the side of my head. "You gotta go," The Ghost of WSOPs Past whispers in my ear.
"Fuck you Dan," I say, folding. The big-stack SB pushes more than my stack anyway and the BB calls all-in. SB has TT, BB has KK. SB catches the case T, BB goes home, I make the money for what seems like the first time.
Yadda yadda, push, push, my aces over kings beats kings over aces for the win.